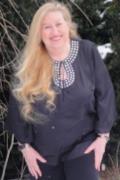 Available
Goldey is a gifted Clairvoyant, Medium and Astrologer. The word Horoscope means hour pointer so to get the most accurate astrology reading with Goldey you should have dates and times of your birth at the ready. Whether or not you have this information Goldey will aim to bring clarity where there is confusion, hope where there is worry and happiness where there has been sadness. Goldey is also Clairaudient; meaning she senses a great deal from your voice, as well as Clairsentient - receiving messages through the energies around her. Goldey can bring you real, honest insight.
Clairvoyant

Clairsentient

Clairaudient

Life Coach

Counsellor

Medium

Psychic

Runestones

Astrology

Numerology

Tarot Cards

Crystals

Pendulum

Oracle Cards

Love/relationships

Career/work

Pets/animals

Destiny/life path

Lost objects

Lost people/pets

Deceased loved ones
Pay on your phone
This is the simplest and quickest option Call 0905 005 8275
Pay by Credit card
Call 0207 111 6425 or Click here to Book Online
All our psychics are experienced and so understand not only the quality of service required but also what you as a customer should expect; empathy and empowerment
How does a telephone reading work?
It's your choice on how much information to divulge to a reader although most will ask for a name and or date of birth.
Open Reading
Your chosen psychic will read for you in an open-ended way. Requesting an open reading can lead the reading in any direction and so it's up to you to converse if you want to direct the conversations to receive the guidance you wish for.
Questions
You can request guidance on any subject and once again it's your choice on how much you want to discuss or interact with the psychic. As each psychic has their own style, you may find some are conversationalists which some will prefer to read in a more one-way fashion.